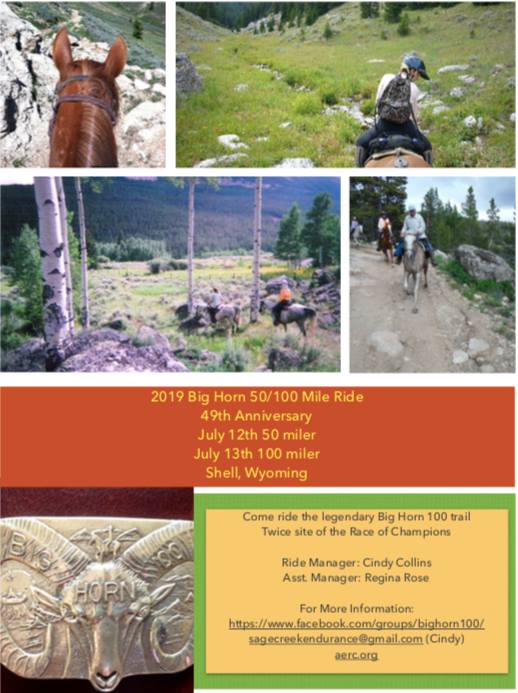 October 17 2018
Come Ride the Legend!
The Big Horn 100 has been scheduled on the AERC ride calendar for Saturday, July 13, 2019. A 50 mile ride will be held on Friday July 12.
New ride manager Cindy Collins and assistant ride manager Regina Rose have already been working on getting sponsors for this 1-loop 100-miler - one of the few Big Loop rides in the country.
Collins stated, "The 2019 Big Horn 50/100, July 12 & 13th, is going to be an event to remember!
"Check out our sponsors (so far), please support them and thank them for donating to one of the most iconic 100 mile rides in the AERC:
Specialized Saddles 
specializedsaddles.com

Riding Warehouse 
www.ridingwarehouse.com

Distance Depot 
thedistancedepot.com 
Ride Boldly 
www.rideboldly.com
EasyCare, Inc. 
easycareinc.com
The Production Room 
https://reidstackshop.webs.com

Sabrina White's Rump Rugs
classythreads@hotmail.com
Crazy Legs Riding Tights 
http://crazylegstights.com/
 . 

More details to come soon!"
For more information, contact Cindy Collins at:
sagecreekendurance@gmail.com