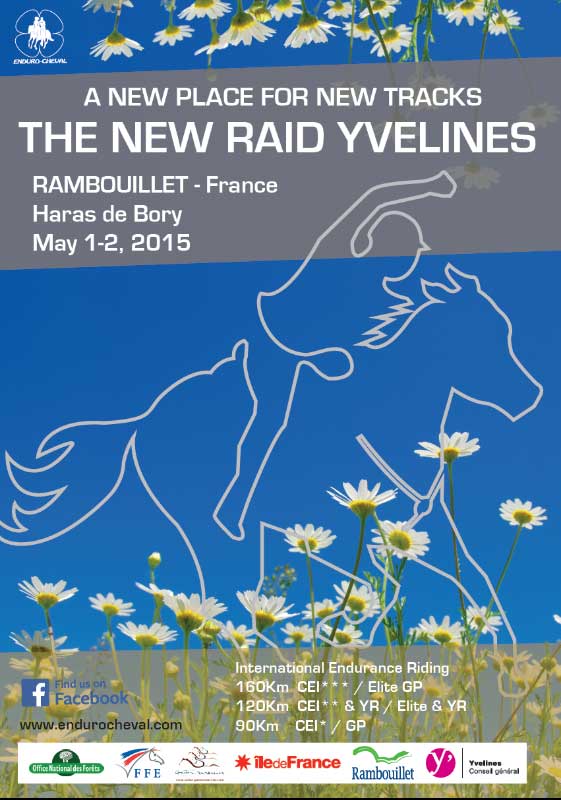 The first week-end of May will be held the « NEW RAID YVELINES »? Why new? Very simple because the Raid Yvelines 2015 innovates. First, we leaves the Rambouillet hippodrome for a new place, splendid and functional, le Haras de Bory (La Boissiere Ecole –78), and foremost, and specially, we offer new tracks, better ones, in the western part of the forest of Rambouillet – you can find the plots on the Enduro Cheval website.
http://www.endurocheval.com/
Event program
Thursday, April 30th : veterinary inspections – from 3h00pm to 5h00pm.  
Friday, May 1st : « Raid Yvelines » CEI*** / AMA Elite GP (160Km) + CEI* / AMA GP (90Km)
6h00am : Departure « Raid Yvelines » CEI*** / AMA Elite GP (160Km)
7h00am : Departure CEI* / AMA GP (90Km)
From 12h30pm : Arrival CEI* / AMA GP (90Km)
From 17h00pm : Arrival « Raid Yvelines » CEI*** / AMA Elite GP (160Km)
19h00pm : Press Podium
19h30pm : Aperitif and meals available to all, awards, screening of the event  
Saturday, May 2nd : CEI** / AMA Elite (120Km) + CEIYR** / AMA Elite YR (120Km) + CEI* / AMA GP (90Km)
6h30am : Departure CEI** / AMA Elite (120Km)
7h30am : Departure CEIYR** / AMA Elite YR (120Km)
8h30am : Departure CEI* / AMA GP (90Km)
From 14h00pm : Arrival CEI* / AMA GP (90Km)
From 14h30pm : Arrival CEI** / AMA Elite (120Km)
From 15h30pm : Arrival CEIYR** / AMA Elite YR (120Km)
18h00pm : Press Podium
19h00pm : Aperitif and meals, awards, screening of the event
20h00pm : Special evening
Contacts
Alban Llorca
Président de l'association Enduro Cheval
President of the association Enduro Cheval
+33 (0)6 80 91 07 74  
Nicolas Berthelot
Responsable de la course et de l'organisation
Race and organisation manager
+ 33 (0)6 08 23 98 53 / nicolas.endurocheval@orange.fr  
Philippe Noël
Responsable de la communication
Responsible for the communication
+33 (0)6 83 20 62 66 / noel.conseil@yahoo.fr