The Santa Cruz County Horsemen's Association Presents

FIREWORKS 25/50 ENDURANCE RIDE
Saturday, August 6, 2011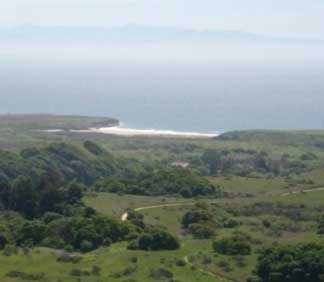 Please join us for the 28th Anniversary of the Fireworks 25/50 Endurance Ride in beautiful Santa Cruz County. Our trails run from the majestic redwoods over rolling coastal meadows and out towards the ocean. Views are dazzling as you ride through Henry Cowell and Wilder Ranch State Parks, Pogonip City Park, the upper lands of
UC Santa Cruz, and, new this year, one of the county's loveliest private properties.
The route includes single track trails and roads, and a river and several stream crossings, hill climbing – some short and steep and others longer and more gentle – while encountering hikers, bikers, and wildlife. Come prepared to take your time and enjoy it. Both the 25 & 50 mile rides are AERC sanctioned.
We consider the ride moderate in difficulty. It is technical in places, but the footing is generally good. We require some kind of hoof protection, as portions of the trail can be rocky. We will have plenty of water on the trail. The weather can range from cool and foggy to hot; please plan for both. This ride will take place regardless of weather. The 50-mile ride begins at 6 a.m. and the 25-mile ride begins at 7 a.m. Both have a controlled start.
Need more reasons to join us? We are planning a wine tasting, an art show and a blue grass band Saturday night, and clinics on Friday evening for beginners and more advanced riders. We will have tack vendors, saddle fit experts and a farrier to make sure you have everything you need.
Ride Camp is located at the SCCHA Graham Hill Showgrounds - 1145 Graham Hill Road in Santa Cruz. Camp will be open at 12 noon on Friday through 12 noon on Sunday. We have plenty of parking and lots of open space for big rigs. Water, showers & toilets are available. See Map with Location & Directions.
Camping for Friday and Saturday nights is included with your entry. If you want to come early or stay longer please indicate which days to add on your ride application and include the extra fees. We will mail you camping passes for these extra days. We have a number of paddocks available on a first-come-first- serve basis. Dogs must be on leash at all times. See our Grounds Rules for Campers.
Pre-ride Vetting starts Friday afternoon when the vets arrive (about 3 p.m.), and continues until 7 p.m. The pre-ride meeting will be at 7 p.m. on Friday evening.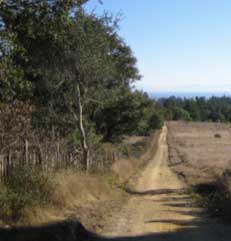 Entries must be postmarked by 7-30-11 to avoid a $20 late fee. All fees must be included with entry to avoid late charges. NO FAXED ENTRIES ACCEPTED. We will take entries on Friday at check-in, but sure appreciate getting them earlier so we are
sure to have enough food and vets.
Download Ride Entry.
Mentor a friend on their first endurance ride or someone who has been out of the sport for three years or more, and receive a $10 discount on your entry. The new rider can be any age, and a mentor can be both a mentor and a sponsor for a junior. A mentor must be an experienced endurance rider.
Meals will be sensational as usual. Saturday's Awards Dinner is included with your ride entry fee and begins at about 4:30. Extra dinner tickets are $15. We are offering dinner on Friday between 5-7 p.m. for an extra $10. You can also order a bag lunch for $5.
Awards will be plentiful. We will recognize the first rider in each weight class and the first Junior, Best Condition for the 50 mile ride and Horse Excellence for the 25 mile ride. And we have lots more!
Ride Managers are Debbie Boscoe and Liz Maitoza. The ride secretary is Donna Stidolph. For inquires you may contact:
- Debbie at 831- 423-8848 / dboscoe@pacbell.net (limited availability 5/15 through 7/19)
- Liz at 831-763-7885 / maitozapainting@aol.com (between 5/15 and 7/19)
- Donna at donna@stidolph.com
Download Ride Entry
See Map with Location & Directions
Ground Rules for Campers