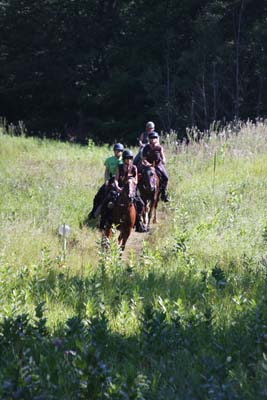 Thistle Down Run
August 20 & 21, 2011
Frazee, Minnesota
| | | | |
| --- | --- | --- | --- |
| Schedule: | Saturday Start* | Sunday Start* | Fee |
| 50 Mile Endurance | 6:15 am start | | $70 Sr - $50 Jr |
| 25 Mile Limited Distance | 6:45 am start | 6:15 am start | $55 Sr – $40 Jr |
| 25 Mile Competitive | 8:45 am start | 8:00 am start | $50 Sr – $35 Jr |
| 12 Mile Novice | | 8:00 am start | $25 all |
*Times listed are earliest start possible – All Jr. riders must wear a helmet!
Early entries can be mailed to Ride Manager
No fees refunded after horse is vetted through.
*This ride is sponsored by MNDRA
*Sanctioned by MNDRA, UMECRA, and AERC
*Copy of negative Coggins required of all horses to leave with management
*Endurance: $15 surcharge without current AERC card
*Appropriate completion and placing awards
*Saturday night potluck and awards (please bring a dish to share)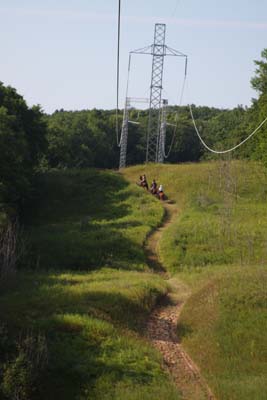 Trail: 25 miles of varied terrain through grass fields, rolling hills, and hardwood forests on single and 2 track trails has something for everyone. Vet checks in camp.
Camping: All land used is private, so please respect owners property. Camping will be primitive with water available, pit toilets, and no electricity. Camping fees go to landowners for use of their property. Early camping available, call ahead.
$25/night or $20/night with 2 or more nights $10/day use only
Location: Coming from the east on US Hwy 10 - 3 miles west of first Frazee exit/State Hwy rest area. Coming from the west on US Hwy 10 - 5.5 miles east of the Detroit Lakes Holiday Inn.
Site is right off highway on south side and will be marked.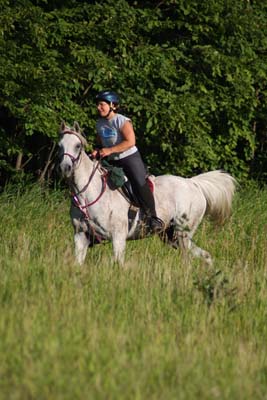 Ride Managers:
Teresa and Dale Fett
11684 Woods Drive
Frazee, MN. 56544
218-334-5711
fettbros@loretel.net
Sandy Fett
320-247-0433
sandra.fett2010@gmail.com
Head Vet: Dr. Travis Kuhlka
Second Vet: Dr. Randall Lindeman
Special Thanks to land owners:
Scott & Lisa Piche, Les & Pat Kertscher ,
Vinton & Joyce Vogler , Dale & Teresa Fett
For more information, see
http://www.mndra.com/ride%20schedule.htm
. A ride schedule can be downloaded from the top of the page, or you can download one here: