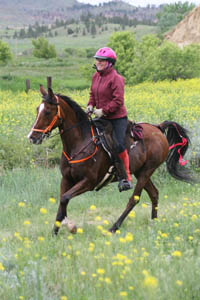 On-Line entries are available for the Fort Howes Endurance Rides at
forthowes.net
(forthowes 'dot' net).
Ride dates this year are
June 11-12
. Location is near
Ashland, Montana
. Saturday we'll be hosting a 35, 50, and 75. On Sunday we're hosting a 55 and 100. Saturday's 50 will serve as the AHA Region 6 Championship with Sunday's 55 and 100 serving as AHA Local Rides. As usual our 50, 55, 75, and 100 are also FEI rides with Open and Young Rider Divisions.
Trails circle out of basecamp onto the Custer National Forest with all checks in camp. Trails consist of unimproved jeep roads, cow trails, open meadows, and very little gravel roads. Basecamp is at 3,300 feet with trails climbing 1000' feet overall.
We offer a HUGH basecamp with more than ample parking for every size rig imaginable...Dinner on Friday night includes sirloin steaks, potatoes, salad, veggies, and dessert. Saturday we'll have hamburgers/hotdogs on the grill.
Looking forward to seeing our old friends and welcoming new ones!
Bill and Jan Stevens